DESCRIPTION: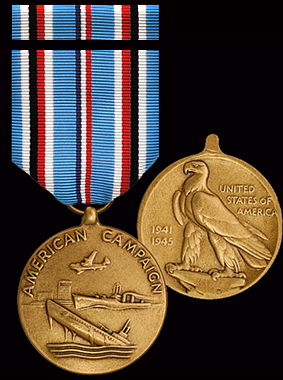 The medal is rounded bronze medal; image showcases a USN cruiser vessel at speed with a flying B-24 Liberator bomber overhead; an enemy submarine is sinking stern down in the foreground; a pair of bulidings are set to the left of the horizon background (the arsenal of democracy); embossed text is arched above the scene with the words:
"AMERICAN CAMPAIGN"
REVERSE: An eagle stands proudly on her perch; to the lower left are the years
"1941"
and
"1945"
; to the upper right is text that reads:
"UNITED STATES of AMERICA"
.
RIBBON:

The ribbon is 1-3/8 inches wide and consists of the following:

All thin banded stripes of different thicknesses; begins with blue, the think white-to-black-tored-to-white and then blue again; at center are three thin stripes of black, white, red; the ribbon concludes with the same earlier pattern of white-red-black-white and blue.



CRITERIA:
Awarded to personnel serving in the American Theater of war encompassing December 7th, 1941 and March 2, 1946; the recipient in question was to have served on permanent assignment outside the US soil or assigned to a vessel sailing at least for 30 days (or 60 non-consecutive days) or assigned as crew to an aircraft operating frequently over water for 30 days or in active combat against the enemy and awarded a combat certificate or decoration by a commanding general of corps to prove such participation or assigned within continental limits of the US for an aggregate period totaling one year.
BACKGROUND:
The American Campaign Medal was established per Executive Order 9265, 6 November 1942, by President Franklin D. Roosevelt and announced in War Department Bulletin 56, 1942. The criteria was initially announced in Department of the Army (DA) Circular 1, dated 1 January 1943, so that the ribbon could be authorized prior to design of the medal. The criteria for the medal was announced in DA Circular 84, dated 25 March 1948 and subsequently published in Army Regulation 600-65, dated 22 September 1948. The American Campaign Medal was issued as a service ribbon only during the Second World War, and wasn't issued as a full-sized medal until 1947. TThe first recipient of the American Campaign Medal was General of the Army George C. Marshall, Jr.