To contact the webmaster, click HERE. Back to Home Page...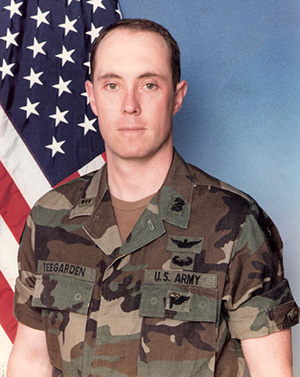 Chief Warrant Officer Four (CW4) James Robert (JimBob) Teegarden (1964 - ) was born in Georgetown, Kentucky on October 7, 1964. He and his family moved to Trenton, Tennessee in 1978. After graduating from Peabody High School in Trenton in 1982, Mr. Teegarden joined the Army as a 91B10, Combat Medic and completed Basic Training at Ft. Jackson, South Carolina on June 15, 1982. In April 1987, after spending four years as a medic, Specialist Teegarden applied and was accepted to Warrant Officer Flight Training at Ft. Rucker, Alabama. He flew the TH-55A as a Primary trainer, then flew the UH-1H for Instruments and Combat Skills. He graduated on 1 April 1988 and then attended the UH-60A "Blackhawk" course at Ft. Rucker that lasted 6 weeks. He then was assigned to Bravo Company 5-101st Aviation Regiment at Ft. Campbell, Kentucky. His duties included Aviation Life Support Equipment Officer as well as UH-60A Blackhawk Pilot-in-Command. In September 1990, his unit was deployed as part of Operation Desert Shield to Dhahran, Saudi Arabia and in January 1991 took part in Operation Desert Storm. On February 20, 1991 he took part in the largest, longest helicopter Air Assault in military history, when over 300 assault helicopters air-lifted more than 2,000 men and 50 howitzers deep into Iraqi territory in just over 3 hours. Mr. Teegarden returned to Ft. Campbell in April 1991 and then was transferred to Schwabisch Hall, Germany in April 1992. He was assigned to Charlie Company, 6-159th Aviation Regiment. Mr. Teegarden spent more than 17 months flying in and around Zakhu, Iraq and Diyarbikir, Turkey as part of Operation Provide Comfort supplying the Iraqi Kurds with much needed food, medicine, and other logistical support. "Eagle Flight Detachment" was the only unit to actively land in Iraq on a daily basis for more than 5 years. In June 1994 he took part in the 50th Anniversary of the D-Day invasion in Normandy, France. Mr. Teegarden returned to Ft. Campbell, Kentucky in April 1995 and was assigned to Bravo Company, 9-101st Aviation Regiment. Mr. Teegarden completed his military career in August 1998 after being medically discharged (Honorably). In January 2006, he was allowed back in the Inactive Ready Reserve, and on November 1st, 2006 he went back on Active Duty to attend the UH-60 Blackhawk Instructor Pilot course. He visited or flew in the following countries while in the U.S. Army:
Honduras
El Salvador
Peru
Saudi Arabia
Kuwait
Iraq
Turkey
Germany
France
Austria
Czech Republic
Belgium
Italy
United States
Bahamas
His military education includes the Warrant Officer Basic Course, the Warrant Officer Advanced Course, Army Safety Officer Course, and Aviation Life Support Equipment Course. He was qualified in the UH-60A,L,M UH-1H, and the TH-55A and flew more than 3,000 hours while he was in the U.S. Army.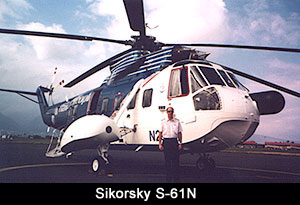 Mr. Teegarden then went to work for Hawaii Helicopters Inc. in Kahului, Maui, Hawaii in June 1999. After attending the Sikorsky S-61N course in Aberdeen, Scotland in the summer of 1999, he returned to Hawaii to fly a government contract that involved cleaning up the former Navy bombing range located on the Island of Kaho'olawe, Hawaii. When Hawaii Helicopters sold their S-61N (SP) in January 2000, Mr. Teegarden was hired by Pacific Helicopters a few hangars down from Hawaii Helicopters flying the same Sikorsky S-61N type helicopters. He flew with Pacific Helicopters until October 2000 when he went back to college full time to complete his Bachelor's degree.
Mr.Teegarden graduated from Embry Riddle Aeronautical University in September 2001 with a Bachelor's degree in Professional Aeronautics and was hired by Lear Siegler Services Inc. teaching Primary Army Flight Training at Ft. Rucker, Alabama in the TH-67A "Creek" (Bell 206B) Jet Ranger. He now has over 9,000 flight hours and 1,600 hours of simulator time. On November 1, 2006, Mr. Teegarden once again became Chief Warrant Officer Teegarden, returning to active duty. He will remain at Ft. Rucker, Alabama teaching Flight School 21 (FSXXI) in the UH-60A Blackhawk. In August 2009, he was promoted to CW4 and continues to teach flight school in Blackhawks at Ft. Rucker. He bacame a Department of the Army Civilian (GS-13) in November 2010 and remains in the Reserve as an instructor pilot. In September 2016, he attended the UH-60M Blackhawk Course and now teaches both the A/L and M night / Night Vision Goggle (NVG) courses.

His military awards and decorations include Meritorious Service Medal, Air Medal (3), Army Commendation Medal (2), Joint Service Achievement Medal, Army Achievement Medal, National Defense Ribbon, Good Conduct Medal, Southwest Asia Service Ribbon (3 stars for Desert Shield, Desert Storm, and Provide Comfort), Humanitarian Service Medal, Armed Forces Reserve Ribbon, Overseas Ribbon, Army Service Ribbon, Liberation of Kuwait Medal (Saudi Arabia), Liberation of Kuwait Medal (Kuwait), Global War on Terrorism ribbon (Expeditionary). Mr. Teegarden also earned Master Army Aviator Wings, the Pathfinder Badge, and Air Assault Badge.

To contact the webmaster, click HERE.